Sunday, March 18, 2018 - 20th Annual Performance-Tested Bull & Female Sale at Bloomington Livestock Exchange
Bulls
Bulls are enrolled in performance tests, ultrasound data collection, and breeding soundness exams allowing us to capture a wide range of data to evaluate the true merit of each individual. Our bulls are developed on a high forage diet. Stop by the farm and look through the offering anytime. To be added to the mailing list visit our "Contact us" page.
Feature Female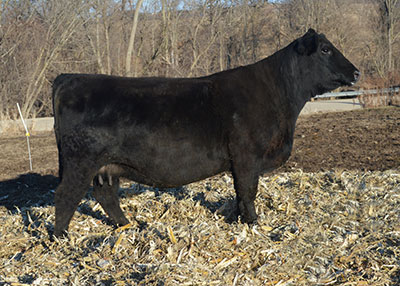 Lot 58 - 2K Rachel 1736 - 18633194
This year's feature is a Rampage daughter hand- picked right off the top of the 2016 replacement heifers. This female ranks in the top 3% of the breed for WW, top 5% for YW, top 10% for $W, and top 3% for $B. 1736 has an outstanding bull calf sired by the popular bull, 3F Epic 4631. With 45 Epic sons from his first fall and spring calf crops at Express selling at auction for an average price of $12,401, this pair is sure to be a profitable investment.
Her dam is a New Standard daughter and has a WR of 4@110 and YR 2@106.
Show Heifer Prospects
With the 2018 NJAS in Madison, WI this year, we decided to sell a few more show heifers than normal. We think any of these heifers have the ability to be competitive this summer at the NJAS.
Full sisters to these females below sell.